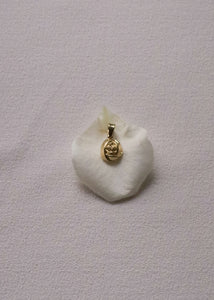 PLEASE NOTE
Expected delivery: Your pre-order will be delivered mid November 2023.
This Rose Pendant, is the smallest in our bouquet. It is elegant and effortless and is easily attached to one of our Velour Bands or to our November arrival Jemma Collar - stay tuned.
Materials

925 sterling silver, Goldplated 14K
Measurements
The height of the pendant measures 1 cm
The width of the pendant measures 1 cm on the widest point
PRE-ORDER TERMS 
You'll be the first to receive items from TTXDM ROSES COLLECTION
Your pre-ordered piece(s) will be delivered to you no later than mid November 2023.
You'll be required to pay full amount 100% upfront, when you place your order, including shipping fee and taxes. This production will start based on the ordered demand.
You'll be charged between 1-5 business days after you've placed your order.
PLEASE READ OUR TERMS AND CONDITIONS REGARDING PRE-ORDER HERE.