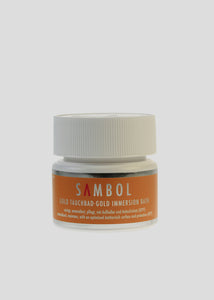 The solid gold immersion bath cleans sold gold jewelry. 

Apply your jewelry into the cleaning basket, immerse for a few seconds, and rinse thoroughly with water and wipe dry with a soft cloth.
We recommend that you polish the jewelry with a polishing cloth after using the solid gold immersion bath. 
Solid gold Immersion Bath is made by the german company, Sambol. 
Please note that pregnant women and children should not use this product. 
We only ship this product inside Europe.