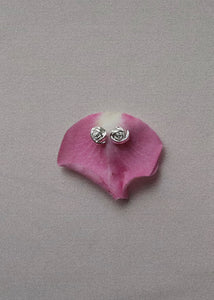 PLEASE NOTE
Expected delivery: Your pre-order will be delivered mid November 2023.
All earrings are sold individually, not as a pair 
This elegant little Rose stud is this collections perfect little add on. Combine with Roses Earring or Double Rose. Or wear as a set for an effortless everyday look.
Materials

925 sterling silver

Measurements
The lenght of the earring measures 1 cm
The width of the earring measures 1 cm at the widest point
The thickness of the earring measures 5 mm at the thickest point
PRE-ORDER TERMS 
You'll be the first to receive items from TTXDM ROSES COLLECTION
Your pre-ordered piece(s) will be delivered to you no later than mid November 2023.
You'll be required to pay full amount 100% upfront, when you place your order, including shipping fee and taxes. This production will start based on the ordered demand.
You'll be charged between 1-5 business days after you've placed your order.
PLEASE READ OUR TERMS AND CONDITIONS REGARDING PRE-ORDER HERE.